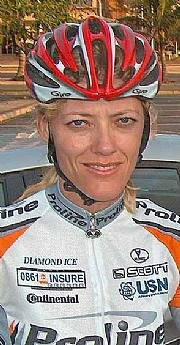 SA's former world vets champion, Elsa Karsten, a stalwart member of the Proline team for the past three years, has had to undergo a biopsy after she was diagnosed recently with breast cancer.
 
This tragic news was made public by Proline's team manager, Alex Cooper, this week after Elsa had asked that the news be released.
While understandably upset and emotional, the gritty Elsa, who is also the reigning SA road champion in the 40-44 category, said on Friday that she "will continue to look forward to the possibility of going to the world master's later this year – which was my main objective for 2005, anyway."
Elsa had the operation two weeks ago, just after the Mr Price Tour Durban. "Losing our Elsa for the next few months will put huge pressure on the team," said Cooper, "but it is now not about the team, it is now about our loyal friend and one of the most lovely and likable people I know on this earth."
 
A team player to her backbone, at the next major race Elsa plans to be in the team vehicle, providing support and helping to motivate her team
 
Cooper appealed "to all our loyal fans, we now really need you more than ever, Elsa needs your loyal support and soon we all will be back, and- believe me- we will not fail to please you."