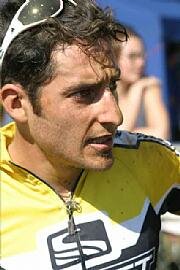 Kevin Evans continued his strong form following the Cape Epic by winning the third round of the Mazda Drifter marathon series, hosted at the Polo Country club in Karkloof and sponsored by Aqelle.
The race course had been changed and made slightly harder and more technical. The big cash prize was still up for the King of the mountains, with the addition of two hotspots, first at 5km and the second at 55km. Cash prizes were also up for grabs at these hotspots.
The race got off to a really fast start with a hard attack from Richard Beswick in the first kilometer. He was quickly closed down as the field was not going to let him get away so early.
Team Red were in full force with the whole team present and on good form. The first split happened on the first big climb of the day.
The break consisted of 15 riders, Team Red had three riders in Shan Wilson, Max Knox and Brandon Stewart. Then came the technical and 5 riders were away: Burry Stander, Marc Bassingwaith, Kev  Evans, Max Knox and Brandon Stewart.
These guys trashed it out the whole race with some aggressive riding, continuously attacking each other. The King of the Mountains was a mad dash with Brandon Stewart taking it from Burry Stander by 4 bike lengths. The second hotspot at 55 km was also taken by Brandon Stewart.
At the second hotspot the lead group consisted of 4 riders - two from Team Red and Marc Bassingwaith had fallen off the pace.
Into the final kilometer and it was going to be a very exciting sprint for a prestigious victory. Evans took it from Stander in second with Stewart in third and Knox finished fourth.